Invest wisely
We understand your need to know that you are putting your money somewhere it'll grow.
Welcome to Tarya
Where your investments are solid, profitable and revolutionary.
Financial inclusion for everyone.
Our investment platform has been developed to promote financial inclusion for everyone.
That means that anyone can become an investor, no matter how much they choose to invest. Whether you are a new investor with just a few hundred shekels, or a seasoned one looking to diversify your portfolio - Tarya is for you.
Through our unique fintechnology, all profits on loans are returned to the investor (not the financial institutions) while all our financial solutions are provided to borrowers, in real-time.
At Tarya everyone's a winner.
Let's talk about trust…
Deciding where to invest your money is one of the biggest and sometimes one of the scariest decisions an investor has to make. The team at Tarya understand this, going the extra mile to develop the most sophisticated and solid investment platform in Israel, a platform you can trust.
Heck you can even refer us to your mother – here's why.
More than 80% of
the loans are secured
by collateral
This means - if a borrower defaults in payment we have claims to an asset which can repay the loan.
Less than 0.2% loss,
with our Sophisticated
Underwriting Technology
The system takes into account various layers of information ranging from online consumer patterns to the user's behavior indicating potential fraud risk and now real-time and immediate financial data. All the data is carefully analyzed and monitored by our specialized risk management team, warranting that we incorporate the most effective credit models, which in turn ensures the lowest default rates.
Smart Agent Rapid
Auto-Financing Algorithms
Advanced algorithms effectively and continuously distributes your investment into hundreds of different loans, ensuring your never exposed more than 0.5% per loan.
Protection Funds
SAFE 200/500
Tarya's unique protection funds ensures maximal yield at minimal risk. Investors have two funds to choose from.
SAFE 200 – free to all investors
SAFE 500 – paid service
Tax
By law, you are required to pay tax on all your earnings. What makes Tarya so unique is that the interest on loans is a fixed interest rate and therefore you only pay 15% tax instead of 25%.
Liquidity
when needed
There is no lock-up period for your money - you can request a withdrawal any time you need it - it's your money after all!
Your portfolio.
Your choice.
With Tarya, investing has never been faster, easier or more flexible.
You can either build your own investment profile or simply select one of
our predefined investment profiles.
It's literally, as easy as that.
Aggressive
Main Attribute: Loans ranked AB, BB
Automated
Main Attribute: Maximum Distribution
Balanced
Main Attribute: Limited exposure in all ranks
Conservative
Main Attribute: 100% Secured Loans
Keep in mind: Investors portfolio performances are individual and may vary depending on the various parameters selected. The data above shows the weighted average interest rate of all active loans in Tarya, after deducting Tarya's fees, before tax, and after deductions of all late payments exceeding 60 days and where relevant the deduction of the SAFE 500 protection fund fees.
Invest in real-time, from anywhere.
Become an investor in just 3 minutes
Select an investment portfolio which best suite your needs
Real time access to your investment portfolio
Complete transparency
Complete liquidity - Submit a withdrawal request anytime you need your money – without any penalties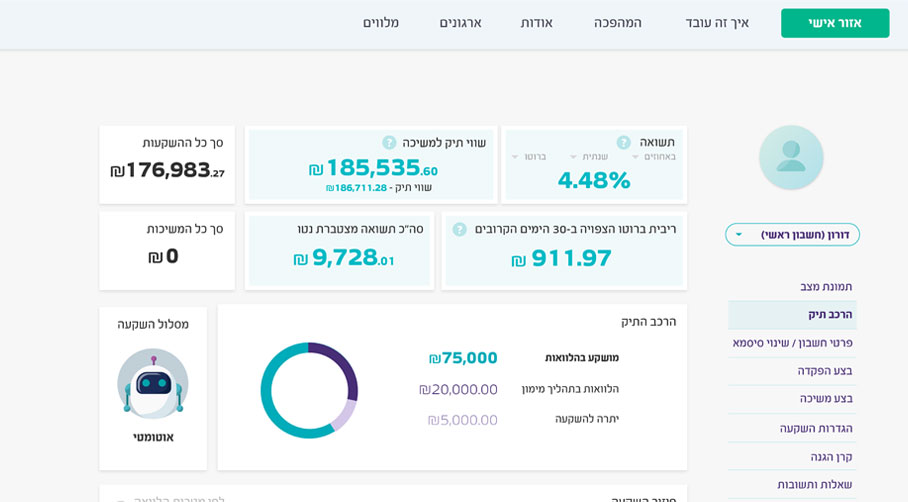 Loans portfolio performance
| RANK | Average Interest | Distribution | Late more than 60 days | Late more than 180 days |
| --- | --- | --- | --- | --- |
| AA | 4.42% | 13% | 0.03% | 0.00% |
| A | 5.13% | 28% | 0.28% | 0.14% |
| AB | 6.58% | 32% | 0.33% | 0.24% |
| BB | 7.18% | 27% | 1.35% | 0.77% |
| Total | | 100.00% | 0.55% | 0.32% |
How to become an Investor
Now its possible for anyone to become an investor.
Start small (no minimal starting amount) and see how your investment portfolio grows.
3
SELECT your investment portfolio – we have 4 to choose from
4
TRANSFER your money to a dedicated trust account